The last 600 SlimmeLezer's sold like hot cakes! Gone within about 30hrs. Lucily the other order came swiftly and are ready to be placed in the webshop.
There are 1000 SlimmeLezers, 100 P1 ethernet readers, 30 esp32 ethernet versions and 15 doorbells.
Please note! Shop closed in week 46 (13~20 Nov 2022)
Please note that next week I'll be away from home for a short vacation and a trip to Formnext Germany (maybe we can meet there 😉 ). That means that I'll be processing all orders which comest before week 46 (13~20 November). All orders after 12~13th November will be postponed to week 47.
How does that amount look like?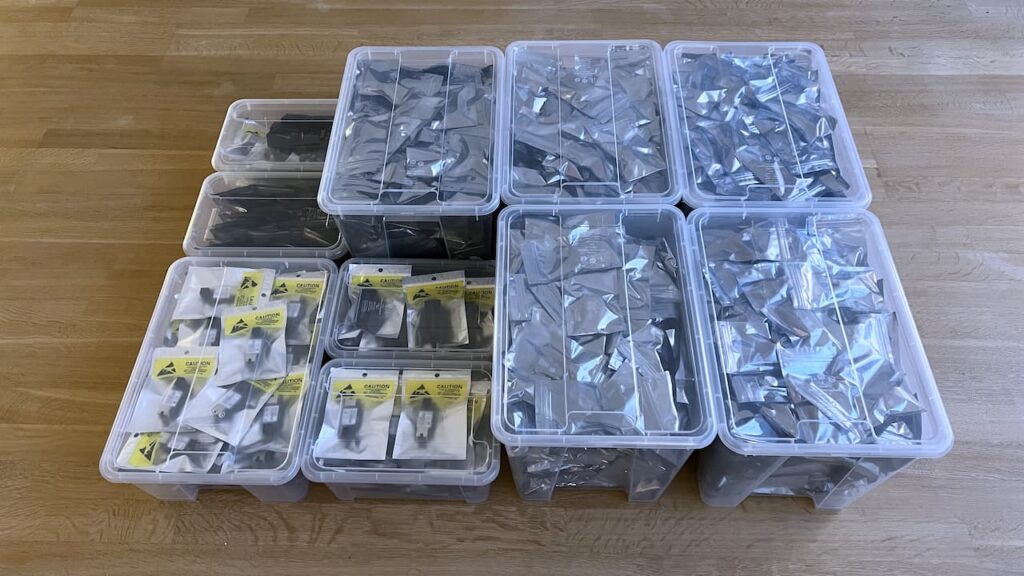 Well, about this 🙂 5 large boxes are 5x 240 SlimmeLezer. Bottomleft with yellow-ish bags are 130x ethernet reader. Top left are 35x esp32 ethernet and 17x doorbell.
1200x SlimmeLezer (1000 in shop, 200 for later)
130x P1 reader ethernet (100 in shop, 30 for later)
35x esp32 ethernet (30 in shop, 5 for later)
17x ESPHome doorbell (15 in shop, 2 for spare)
Last but not least: support
If you have any questions, suggestions or need for support? Please send me an email on:
support-at-zuidwijk-dot-com (sorry, not clickable due to spam)