After making about 60+ P1 readers, wifi and ethernet, I received the question if it would fit in a DIN rail enclosure. Well everything can be made to fit, right?
So I received the question if it would fit in a DIN rail enclosure. Well it would, yet you had to make the case fit the E20 module. And though it fits, it doesn't look right. He asked me if I could make a version that would fit. He send me some photos and measurements and told me some specific wishes he would like.
We agreed a price, which was obviously higher than normal, as I had to design and buy custom PCB's. Luckily those costs aren't that much using JLCPCB. All I had to do was rearrange the components on a new specific PCB layout. Nothing changes in the schematics.
After showing him the design, he liked it very much and I ordered the PCB's. Now there are shipments which delivers the PCB's within about 5~7 days. Yet those shipping costs are around €30 and to me, looking at the price you pay for the smallest batch (5 PCB's), that is way too much (unless you need it as soon as possible). For this small batches or other prototype, I always choose the cheapest shipping. Ok it takes between 2 to 4 weeks to get them, but you get 5 double sided PCB's from 10x10cm for about €6,50 (including shipping).
By the way, did you notice the logo on the PCB? Something I saw and learned from other designs. Expose some copper as part of logo, instead of using the silk for that. Take a look at the back: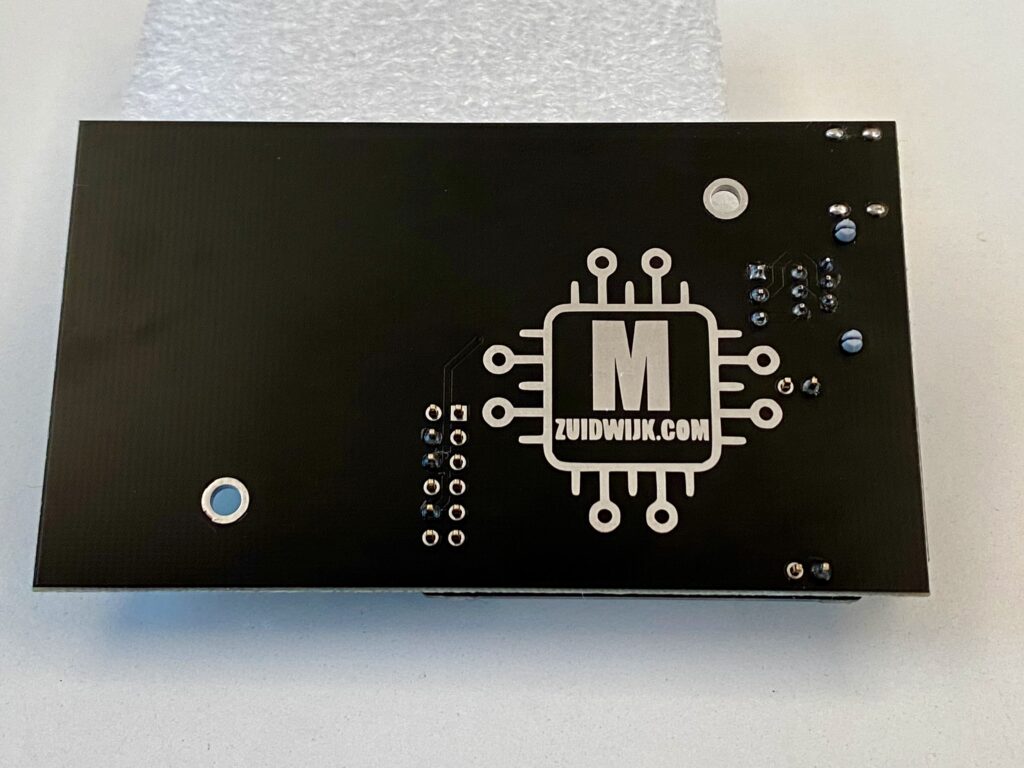 Yeah, I'm quite happy with the design, as well for the PCB, as for my new logo.
For those who's thinking why I designed the PCB this large and left much open space… One of the wishes of the customer was that all the connections where on one side, the ethernet, the P1 and the USB for power. The USB wasn't needed, yet as part of the design, I intended to keep it.